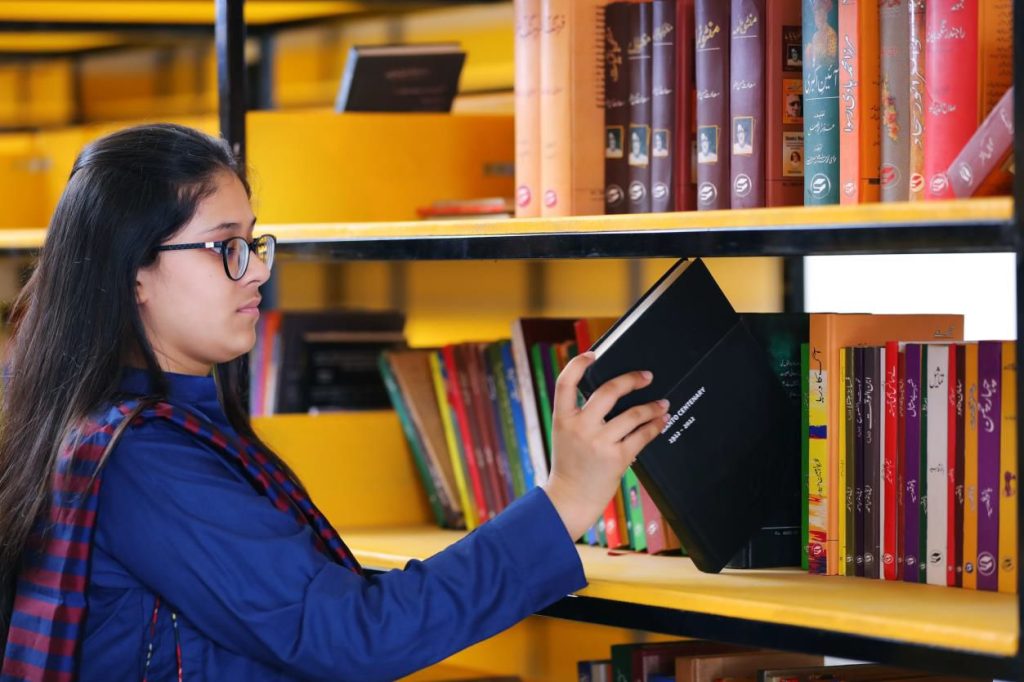 TLHC library is a multi-disciplinary learning space serving the faculty, students and the researchers. The library seeks and promotes the vision and mission of the college by providing timely access to quality and relevant informative resources to meet the research, teaching and learning needs of the college. We are committed to creating a safe, welcoming space where mutual respect, intellectual collaboration, and active learning find a home on the TLHC Girls Campus.
Timing — The library working hours are: From 08:00 A.M. to 02:00 P.M.
Rights & Responsibilities
To borrow books , carry your College Identity Card with you and do not lend it to anyone else.
To borrow books take them with your library card and college ID card to the circulation counters. Our staff would facilitate the lending process.
If someone has not reserved or requested the book(s) you have borrowed, you can renew once by asking staff at circulation counter. Books returned after due date will not be renewed for a week.
You are responsible for all items issued to your card until they are returned and your record cleared. If you lose, deface or damage any library material you will be liable to pay for its replacement cost.
To check your College email regularly, and respond to library notices.
To use the Library for the purpose of learning and research.
To abide by library rules, and to avoid belligerent behaviour toward library staff members.
To neither destroy, tamper with, monopolize, nor unlawfully gain access to, remove, or possess property including Library material, computing facilities, telecommunication systems, fire and emergency equipment on campus, and the personal property of others.
To inform library staff if you notice food or drink spills or broken equipment or technology.
To clean up and remove food related waste from study areas. Study areas should be left clean.
Visitors to the library may request assistance from librarians and staff at any time to address disruptive behaviour. Failure to comply with requests to cease inappropriate behaviour will result in removal from the premises or other disciplinary sanctions. Multiple infractions will result in permanent expulsion from the library.
As part of the College, to uphold all College Policies and the Code of Conduct.
If you lose a book report it immediately at the circulation counter so that your overdue fine can be stopped. Then you will be charged three times the current price of the book.
You are responsible for using electronic resources within fair use guidelines.
Your comments and suggestions about library services will always be welcomed and will be considered and responded to promptly and thoroughly.
Please help us to provide the best service we can to the whole community by taking your responsibilities seriously.
Do you have more questions?
Sui Gas Office Road, Gujranwala, Pakistan.
Tell us a little about yourself and we'll help with the rest. Our convenient online application tool only takes 10 minutes to complete.
After you submit your application, an admissions representative will contact you and will help you to complete the process.
Once you've completed your application and connected with an admissions representative, you're ready to create your schedule.
Are you ready to take the next step toward your future career?